Title: Prisoner of Night and Fog
Author: Anne Blankman
My Rating: 4 Stars
Recommended If You Like: Mystery, Adventure, Romance, WWII, Drama, Dark Novels

Published: April 22nd 2014 by Balzer + Bray
Number Of Pages: 401
More Information: Goodreads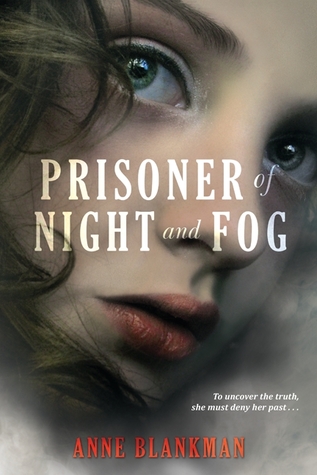 I've said it once, I've said it twice, and probably more than that on this blog that I love any book set during WWII. And this book delivers a delicious fiction take on Hitler and the rise if the Nationalist Socialist Party in Munich. Gretchen adores her uncle Dolf, who just so happens to be Hitler, and dotes on her since her father gave his life to save him. Or did he? Gretchen's life's gets flipped upside down when she meets a Jewish reporter named Daniel who claims someone in the National Socialist Party murdered her father.
I really liked how detailed the author was about 1930's Munich.  I could really tell that she did a lot of research for it, which I thought was a nice touch. I've been to Munich before and I felt like I was back there again when they talked about sitting and walking through the gardens. And I even learned about new things I didn't know before, like the failed putsch.
I connected with Gretchen, but I did feel like she was a little too naive for a 17 yr. old. At times I kept getting confused because it seemed like she was so much younger. But, thankfully she does grow through out the book and does become more aware about her surroundings, while becoming more independent. That is mostly due to Daniel, my personal favorite character. He's a Jewish reporter that writes for a paper exposing the National Socialist Party's wrongs and secret plans. He's smart and independent, and really helps her find herself. I found their relationship really sweet and cute. To me it wasn't forced, although I do think they did come together a little easily considering the circumstances.  As for the other characters, I thought they were good, but they fit too perfectly into a certain box. Like Reinhard was the mean older brother, Eva was the ditsy best friend. It was easy to tell who everyone was going to be early on.
I thought the style of writing was easy to read, but a little too cheesy at times. I felt like certain things could have been more vague and allow the reader to slowly discover certain things on their own, while the author just throws it in your face. But, there's a certain treat for you if you studied German. The title of the book is influenced by a popular German poem called The Erl-King. The author weaves the poems into the book, and I thought it was brilliant to link it into the story the way she did.
Overall, I loved this book and I can't wait for the next one in the series! I gave it 4 stars, because although I liked it there were some cheesy parts. Have you read this or do you want to? What do you think about it? I love to hear your thoughts in the comments!
If you enjoyed this give it a like and share it with your friends. And don't forget to follow for more book reviews. Have a great day!
---