Title: Wild: From to Found on the Pacific Crest Trail
Author: Cheryl Strayed
Published: March 20th 2012 by Knopf
Recommended If You Like: Memoir, Nonfiction, Travel, Adventure, Motivational
Pages: 315
My Rating: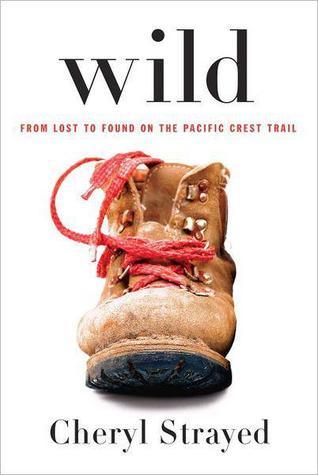 I read this book for blogger essiebutton's book club called buttonsbookshelf for the month of February. I will a little apprehensive first because I don't tend to read a lot of memoirs unless they are about someone famous who I know and really like. Knowing nothing about Cheryl except that this book was recently made into a movie, I wasn't sure how much I was going to enjoy it. But, luckily I was pleasantly surprised.
This book follows Cheryl as she hike along the PCT along California and Oregon. She decides to do this after the death of her mother and recent divorce. At first, I didn't think she a very likeable person. She seemed a bit selfish with the people in her life. But, as the book goes along you get a bigger picture of her and her life and I really began to like and understand her. She truly grows as person as she hikes and becomes very inspiring. But it's not just her that I fell in love with through out the book, it's also the people that randomly pop up throughout the trial. You can tell by the way she describes them they she became very close to them and that they were special to her. It wasn't all fun though, she encountered a lot of hardships that were cringe worth at times, such as losing multiple toe nails and meeting some interesting creatures.
Overall, I felt very inspired after finishing and left me wondering what am I doing with my life? She did all this when she about my age! It was heartfelt and had me crying at different parts the book, especially the end. But also had me smiling as well. She went through so much and it was amazing how she was able to turn it around. If your looking for a book that will help get you strength, you should really check this out!
Be on the look out for Essiebutton's thoughts on Wild on her blog.
have you read this book yet or seen the movie? Let me know what you thought about it. Don't forget to like,comment, and share. And if your not already follow more more post like this!