Sephora Lipstick in Mmm…
Tarte Lipstick in Nameste
The Sephora lipstick is a beautiful mauve pink with a hint of purple undertones, this is a perfect 'your lips but better' shade. It feels creamy on the lips, but drys into a matte finish. I have received so many compliments on this shade, I love wearing it. This is my first Tartlette Lipstick stick and I love it! It a soft, light pink color that dries quickly. It's another perfect nude color and another shade that I've received compliments on. I'm loving nude colors right now, they go with everything and are no fuss.
Secret Life of Pets Movie
I've been waiting for months for this movie, because it has a dachshund character and we own one of our own. It was so cute! Completely worth the wait 🙂
Secret Life of Pets Game
In anticipation for the film, I started playing the mobile game first and it is so addictive! It's basically candy crush but with the pets. The thing I really like about it is that it's challenging. It's not an easy, mindless game. I've spent days on one level before.
A School for Unusual Girls (Stranje House #1)
I've been eying this book for about a year, ever since it came out and I saw it in Barnes and Noble. But I really had to reign in my book buying so I held off. Then I finally ( after a whole year of living here) got my library card. And wow, the library here has so many more books then the last one, especially new ones. So this is one of the first ones I checked out. I love it! It has that dark, Gothic, Victorian atmosphere but also puts a different spin on it. Plus, the female characters are smart, witty, and a little dangerous-a theme you don't usually see for this time period.
Almost Famous
My little sister was seriously lacking in the having seen 90s' movies department. Sop while she was here had her watch all the classics: Clueless, Cruel Intentions, etc. On her last night I let her pick the movie. She choose Almost Famous, she super into old school rock and records so she really wanted to see it. And we both absolutely loved it! The story draws you in so the movie goes by so fast. And there are so many great actors in it, it was crazy!
Fairest of All
Ever since I was little I have always rooted for the villains. I don't know why, maybe because they seemed more multidimensional and I always felt bad for them. Either way, I was so excited when i saw there was whole book series dedicated to the Disney Villains. it tells their side of the story of how they became evil. I loved this one and I'm excited to pick up the next one which is based on The Beast. There is also a new on about Ursula as well.
Harry Potter and the Cursed child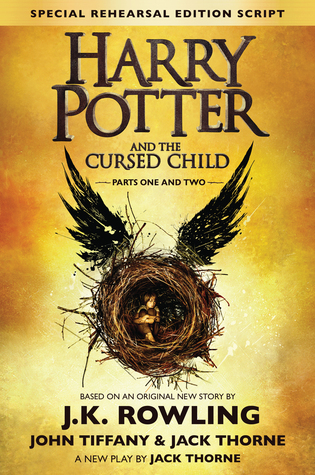 I was about a month late to this one because I couldn't just the price (almost $30!) so I added myself to waiting list at my local library, it was going to be awhile. However, my sweet husband went on a short business trip and surprised me with a copy he bought at the airport. I absolutely loved it, it was hard to get used it being a script, but quickly got use it. It brought back so many memories and made me feel like a kid again. If you love the Harry Potter books, then this is a must read!
Across the Universe
I read this for my book and I was a skeptical at first, since I'm not usually into science fiction. But this is a book that starts off slow and then builds up until it ends with a bang. It reminded a bit of The Giver, but set in space. The ending was crazy and I need to pick the next one ASAP.
Stranger Things
I put off watching this show for as long as I could. I kept hearing about but I'm not one to listen to hype and it didn't look interesting to me. But my best friend kept pestering me to watch it so finally did, and I'm so happy that I gave it chance. It's so amazing and unique. it's also a little scary, which I love. I don't know how I'm going to be able to wait until the next season.
Chelsea
I love Chelsea Handler, I've watched her standup and read her latest book. I also really enjoyed her mini documentary series on Netflix and was sad that it was so short. So I was very happy when her new talk show premiered. I really like it. It's different. You can see celebrities but you also learn a lot as well. It's not superficial and it feels very causal, perfect to sit down and watch with a cup of coffee.
Pumpkin Spice Coffee
Speaking of coffee it's finally time for Pumpkin Spice Lattes! However, in August Starbucks wasn't serving them yet, but I was dying to finally have one. Luckily, Bed,Bath & Beyond was carrying the Mountain Green Pumpkin Spice flavored coffee. It's not same, but it's enough it be enjoyable. Plus, the smell is wonderful!
Summer may be officially over, but that doesn't mean we can't reminisce! Tell me some of your summer favs in the comments below!
If you had fun reading this please give it a like, share, and follow more awesome posts ❤